<![if !vml]>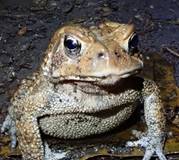 <![endif]>Basic information and gear list for the Roxborough Toad Detour
Official Facebook page: https://www.facebook.com/ToadDetourAtSchuylkillCenter.  
A Facebook group is at:  https://www.facebook.com/groups/209671163583697
Predictor page for toad detour: https://hats4toads.com/forecast.php
Summary
American Toads cross the roads in Roxborough to get to their major breeding ground – the abandoned Roxborough Reservoir. 
The adults cross in the evenings after sunset in late March / early April.  They are hard to see when driving and get run over by cars frequently.  The "Toad Detour" aims to help these toads make it across without being run over.
American Toads are a thriving amphibian species in the eastern United States.  They are not endangered or threatened; they are harmless to humans and generally beneficial creatures in suburban life.
Gear List and rationale
Gear List – normal

<![if !supportLists]>· <![endif]>Headlamp

<![if !supportLists]>· <![endif]>Comfortable sneakers/shoes

<![if !supportLists]>· <![endif]>Reflective clothes or safety vest.  

<![if !supportLists]>· <![endif]>Trash bag if picking up trash

<![if !supportLists]>· <![endif]>Camera with a macro mode

<![if !supportLists]>· <![endif]>Raincoat

<![if !vml]><![endif]>

Extra Gear list for Hagys Mill Road dodging cars (not recommended for children)

<![if !supportLists]>· <![endif]>Beam flashlight

<![if !supportLists]>· <![endif]>Deep bucket to transport toads

<![if !vml]><![endif]>
Since this is a nighttime activity, you'll need lights.  Headlamps work great because they keep the hands free to do other stuff.    Home Depot has these 200 lumen headlamps for $15.  Everyone should (including your kids) should have their own light. Amazon.com of course has thousands of different kinds of headlamps, some good, some less good.  If you find that you like using the headlamp a lot, you probably should invest in some rechargeable batteries.
You do not need a heavy jacket.  If it is cold, there will not be toads crossing.  Toads like warm, rainy nights.  A light rain coat would be a good investment.
Buckets – yes or no (opinion)
When
Toads cross in large numbers on warm, wet nights, typically in late March and April. Check out the predictor page for the best guess when the toads will be moving.  Monitor the facebook page for information as the spring progresses.
You should come at or before sunset.  Toads (on the nights they decide to move) emerge as soon as it gets dark.
Predicting when the toads will appear is haphazard at best.   Volunteers walk the streets even on the marginal nights and report any sightings to the Facebook page.  There are approximately 1200 toads that will cross to the reservoir in March and April.  When there is a warmup with a warm couple of days followed by a warm, rainy night in the 70s, hundreds will cross on the same night.  In 2020, on March 20th there were 500+ toads and about 300 on April 8th, plus about five nights of 40 – 70 toads.   On the early marginal nights, volunteers carry trash bags and pick up some of the litter on the street.  [During the off season, the toads are evidently fond of fast food, malt liquor, chewing tobacco and lottery tickets.]
Once late April occurs, there will be toads going in both directions, to and from the resevoir.   If they are outside the barriers, volunteers make the best guess which direction they are headed and carry them to the other side.   If they are behind the barriers, best to let the toads figure out where they want to go.
<![if !vml]>
<![endif]>
What to expect
Volunteers typically gather at the intersection of Port Royal and Hagys Mill Road while it is still light out.   You can park here next to a radio tower.    If there is a "shift manager" volunteer, he/she will typically provide reflective vests and clipboards for counting the toads as they cross.  The shift manager will also ask for a volunteer to staff the barrier at Eva and Summit Street.   (This is a lonely task but on the best nights there are toad crossings at that area as well.)
The Schuylkill Center for Environmental Education secures a permit allowing this section of the road to be closed in the evenings of March and April during the adult crossing.  The center also provides the barriers and signage.  The barriers generally need to be stationed with volunteers to block most cars from traveling on the roads.  There are sometimes people driving to the church on Eva Street and people needing access to Port Royal Avenue who need to be let through the barriers.
When the road is blocked, watching the toads cross the roads is a fun, educational family activity.  Note the sunset chart above – by the beginning of April when the toads are more likely to be crossing, sunset is late.   Expect the kiddies to be out until 8:45 PM or later.  (Please leave the dogs at home.)
You will also see some pickerel frogs crossing – best to leave these alone, they are somewhat toxic to the toads, and they hop pretty quickly.  (They are also not endangered.)
<![if !vml]>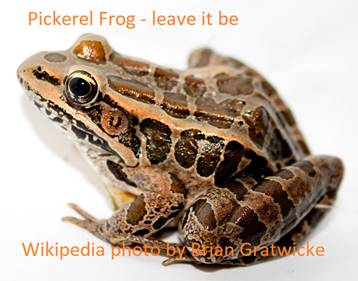 <![endif]>
Please be careful with the toads.   The females are carrying hundreds of eggs for the future generations.   If you want to photograph your children holding a toad, have the children sit on the ground or pavement.  Invariably, the toads will jump from their hands and land on the street, which can injure the toads.
For the best pictures, use a camera rather than a cell phone.  Turn off the flash.  Use headlamps to illuminate the subject.  Use the "macro mode" if you want a close-up picture of a toad.  Hold the camera steady for best results.
<![if !vml]>
<![endif]>
Not all the streets are blocked.  Some volunteers walk along the unblocked streets and help the toads across these streets as well (Hagys Mill Road especially).  Hagys Mill Road toading is not recommended for children.
(Note: All the above information is unofficial and provided as a public service, and may be subject to change, inaccuracies, etc.  You are responsible for your own safety while on the Toad Detour.  The Schuylkill Center for Environmental Education is the official sponsor of the Toad Detour.  This text is © 2021 hats4toads.com / Christopher H. Hand)