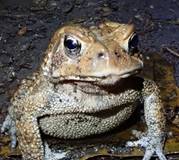 American Toads
cross the roads
in Roxborough to get to their major breeding ground – the abandoned Roxborough Reservoir. The adults cross in the evenings after sunset in late March / early April. They are hard to see when driving and
get run over by cars
frequently.
The "Toad Detour" aims to help these toads make it across without being run over. The Toad Detour secures a
permit from the city
of Philadelphia to
route traffic away
from portions of Port Royal Avenue and Eva Street in the evenings when toads are migrating.
American Toads are a thriving amphibian species in the eastern United States. They are
not
endangered or threatened; they are
harmless
to humans and generally beneficial creatures in suburban life.
Please see the predictor site so you know whether toads are predicted to cross.
Park under the radio tower at
Port Royal Avenue and Hagys Mill Road
. Get there at or before sunset.
The official sponsor of the Toad Detour is the Schuylkill Center for Environmental Education. Please check out these two links:
Official web site of the Toad Detour.
and the
Toad Detour Facebook page
. Many volunteers also communicate through a
Facebook group
. These will let you know which nights to expect other volunteers at the site. Volunteers will be there when the conditions are right for the toads to cross, which is generally when it is (relatively) warm and wet.
.
Since this is a nighttime activity, you'll need lights. A
cell phone light is not good enough
. Headlamps work great because they keep the hands free to do other stuff.
Home Depot
/
Amazon
have $16 or less 300 lumen headlamps, batteries included.
Everyone
should (including your kids) should have their own light. If you find that you like using the headlamp a lot, you probably should invest in some rechargeable batteries. You do not need a heavy jacket. If it is cold, there will not be toads crossing. Toads like warm, rainy nights. A light rain coat would be a good investment.
Look at the
predictor
page to see which nights to come and when to come (sunset). There is no point coming when there will be no toads.
Please be nice to the toads. Keep them close to the ground -
don't drop them
trying to get a selfie! They will jump out of your hands and hit the pavement. The toads will not give you warts. They are harmless unless you try to eat them.
Please leave your dogs at home. At the best they will be a distraction; at worst they will lunge at the toads.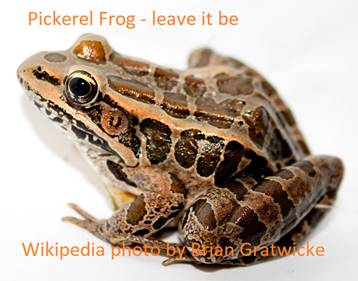 Please don't pick up the pickerel frogs. They are very fast - just (gently) chase them across the street if you want. The pickerel frogs are somewhat toxic to the toads.
You may also see some very small snakes, an occasional bullfrog, tree frog and a bunch of small wolf spiders.
There is no reason to put any toads in a bucket within the (safe) detour boundaries. Buckets are used outside the barricades. Buckets are disruptive though - toads don't perform the complete migration, females are introduced to males earlier than otherwise, etc., so they should be used only as needed. Females accidently "introduced" to males in a bucket are going to have a very hard time climbing up to the top of the reservoir. In this case it might be wise to transport them to the top of the reservoir.